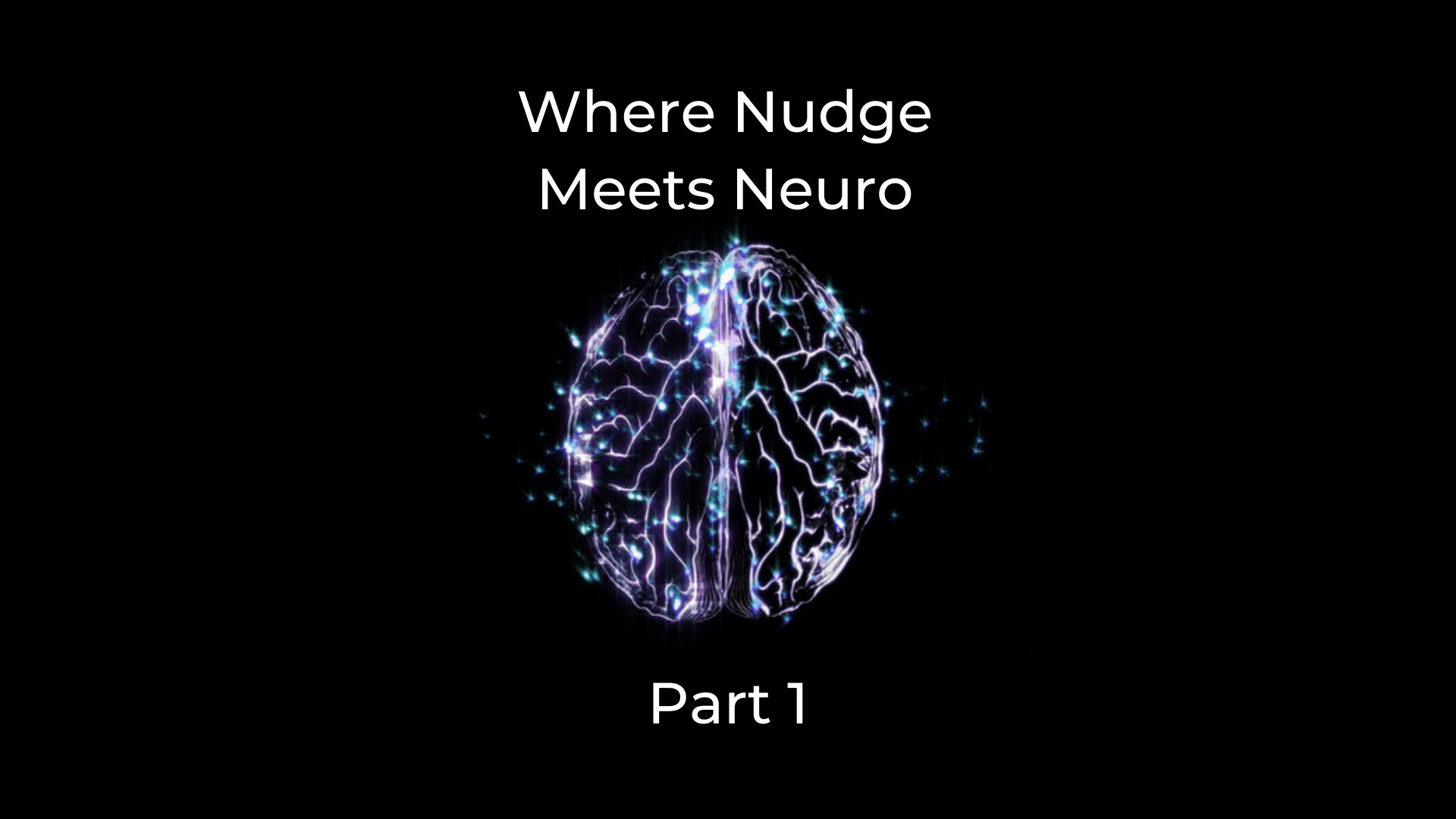 Nudge Meets Neuro
Published on: June 8 2021
Over the last few decades two revolutions have occurred in the science of marketing: One in understanding how our non-conscious minds perceive and react, and the other in how we behave. These two new influential fields are having a profound effect on our ability to better understand what makes customers tick and tock: Consumer Neuroscience and Behavioural Science. 
The latest learnings from decision science indicate that, on their own, traditional rationalised research tools are simply not sufficiently penetrative to provide deeper-level insights into what shapes perceptual response and triggers behaviour. There is too often a gulf between what people say they will do and how they behave. 
No surprise then, that frustrated marketers and creatives seeking more valuable and predictive insight have embraced the newer Neuroscience-led techniques, which can capture and quantitatively evaluate response patterns at this deeper, emotional and non-conscious level.
Meanwhile, Behavioural Science has increasingly informed brand thinking and consumer analysis in recent years. Experts like Ogilvy's Rory Sutherland have become proponents of 'Behavioural Economics' or 'Nudge Economics'. 
In essence, nudge specialists leverage their expertise in heuristics. These are the mental shortcuts which effortlessly help our over-loaded brains make decisions for us, without us even being aware of it! Conjuring up creative ways to tap into these virtually automatic, non-conscious triggers is a very effective way of cueing perceptual shifts and re-directing our behaviour.
Marketers often ask us how these two disciplines of Neuroscience and Behavioural Science relate to one another. From a marketing practitioner point of view, the two are highly complementary and beneficial when used together. 
On the one hand, 'nudge specialists' devise compelling and intuitive interventions through heuristics. On the other, consumer neuroscientists provide quantitative evaluation of their likely impact and help optimise their effectiveness: Nudge meets Neuro!
The interventions are conceived to work at the implicit level, and therefore it makes sense to measure them at that same level via neuroscience tools, rather than rely solely on rational, System 2 tools.
Inspired by Behavioural Science, creatives seem to instinctively know just how to trigger implicit impulses, and thereby more readily nudge people along in the desired direction. This all makes for smarter ways to communicate and deliver ideas. As Rory Sutherland puts it: "These solutions seem so natural and intuitive because they are! We're letting consumers join the dots themselves – lightly guiding rather than force fitting."
At the forthcoming Nudgestock event on June 11th, the two disciplines will be in play together. Nudge will meet Neuro. On the day, Ogilvy and CloudArmy will be working in real time together on a highly intriguing innovation brief. The challenge will be to transform the potential of a fledgling, yet extraordinary and futuristic food brand. 
By the culmination of Nudgestock, the Ogilvy team will have created a number of nudge interventions to put to the audience. To help things along in this quest, they'll be armed with market-based neuro-insights, implicit biases and best practice provocations from CloudArmy.  
Ultimately, each intervention will be quantitatively evaluated for likely in-market 'nudge potential' via CloudArmy's range of online implicit testing methodologies. Feedback and insights will then help fuel discussions with the Ogilvy team as to how the interventions might be optimised further. 
Ogilvy is a leading example of how the most progressive behavioural agencies are already realising the benefits of partnering with neuroscience specialists. It gives them the capability to identify quantitatively, at an almost forensic level, the degree to which their creative triggers, narratives or campaigns are not just emotionally compelling, but likely to induce the intended behavioural change. 
We are beginning to see the most committed agencies embedding neuro-implicit test-and-learn feedback into their creative way of working: providing iterative 'creative sprint' optimisations at key stages of the process and compressing development cycles from months to weeks.
Please get in touch with us at  to find out more about how we blend Neuroscience with Behavioural Science to deliver more effective marketing and creative solutions.